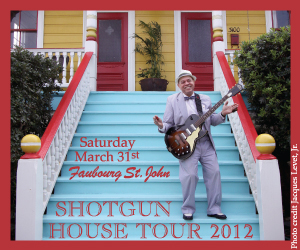 My first home purchase was a shotgun in the Riverbend on Dublin St. It faced west, sat in the middle of the block, and was a stone's throw to the streetcar and not much further from all the other things a 23-year-old finds indispensable (read: Cooter Brown's). At the time, I didn't think much of my new residence. I clearly liked it enough to buy it, but frankly I was mostly happy not to be paying rent any longer.
Over time as I changed this and that about my little house, painting inside and out, adding central air, I grew to more fully appreciate the classic style this distinctive Crescent City dwelling tends to possess. The gingerbread, the front porch, the wood-burning fireplace, the hardwood floors, the high ceilings, on and on. Some of my favorite moments were just gardening out front any given evening and engaging passers-by and neighbors alike. I felt plugged in.
What I didn't know is how my relationship with the space would change and change me. By the time my wife and I had our second child, we'd outgrown our 1,200-square-foot nest, and it was time to move on. No complaints, no worries, but I wouldn't, haven't and won't be living in another shotgun anytime soon. So, thankfully, the Preservation Resource Center has The Shotgun House Tour, and we shotgun enthusiasts (is that a thing?) can get our fix! Recently, I caught up with PRC outreach director Suzanne Blaum about the annual event.
Jean-Paul Villere: When did the PRC begin holding shotgun events, and what parts of the city have been featured thus far?
Suzanne Blaum: We organized Shotgun House Month in 1994 to promote them to prospective home buyers in order to ensure restoration of threatened houses rather than demolition. Neighborhoods that have been featured on the Shotgun House tour include the Bywater, the Irish Channel, the Garden District, Algiers Point, Holy Cross and several parts of Uptown. We're returning to Faubourg St. John this year after previously featuring it in 2003.
JPV: Why shotguns? Why not raised basements? Or duplexes?
SB: The shotgun is the most predominant house type in the city, and the most historic house type we continue to demolish. For such a simple house type, they are so interesting because they evolved over time. They first became popular in New Orleans in the 1830's, remaining popular through the early 20th century and are still found in most historic neighborhoods throughout the city. They have been dressed up with different architectural styles at different times, so they are representative of a large part of New Orleans' history, both architecturally and culturally.
Shotguns are also interesting because what you find inside is often not what you'd expect. The floor plans can be altered so dramatically that seemingly similar houses may vary greatly from one another and provide inhabitants with entirely different environments.
JPV: Is the shotgun a regional find only? Or are there other parts of the country or the world where one might find them?
SB: You will find them across the Southern region of the United States, and I have read in "New Orleans' Favorite Shotguns" (by Preservation in Print editor Mary Fitzpatrick) that there is even one left in Santa Monica. There are also shotguns in Haiti and Africa, where it is said they originated.
JPV: When is a shotgun not a shotgun? Or once a shotgun, always a shotgun?
SB: There are many different variations of the shotgun house in New Orleans, which includes camel backs, side galleries and double shotguns. Not everyone might agree with this, but even when a shotgun has lost its traditional shotgun floor plan, it is still a shotgun at heart. You can create private rooms, move the kitchen to the front, or add an addition, but a house can still maintain its historic bones.
There is a shotgun on the tour this year that was converted in an interesting way. The center wall of a double shotgun was removed and two walls were placed to create a center hallway. Sometimes it takes further investigation to uncover the origins of a house after it has undergone such changes, but this is still a shotgun house at heart and we are excited to feature it as part of Shotgun House Tour 2012.
JPV: Any favorites come to mind? Or any you have your eye on for future events?
SB: A favorite shotgun would be tough to choose. Each one we feature is my favorite. One of the great things about this tour is that tour goers can discover for themselves what makes each one unique and also gain ideas for modern living within a sometimes challenging floor plan.
For more ideas, PRC is also featuring a wonderful shotgun in the Bywater neighborhood at next month's Renovators' Happy Hour event on April 19th.
JPV: What are the event details this year?
SB: The Shotgun House Tour will be Saturday, March 31st, from 10 a.m. – 4 p.m. in Faubourg St. John, with the headquarters at the Pitot House, 1440 Moss Street.
Tickets are available in advance by calling 504.581.7032 or by visiting www.prcno.org ($16 for PRC or LLS members, $20 for non-members, or $10 per person for groups of 10 or more). On the day of the tour, tickets are available for $25 at tour headquarters, where tours are included for ticket holders courtesy of Louisiana Landmarks Society, as well as discounts to neighborhood businesses (see www.prcno.org for more info about this). Re-Bridge will also be selling tickets at the headquarters for Boil for the Bridges happening later that afternoon.
Jean-Paul Villere is the owner of Villere Realty and the Du Mois gallery on Freret Street and father of four girls. In addition to his Wednesday column at UptownMessenger.com, he also writes an occasional real-estate blog at villererealty.com and shares his family's adventures via pedicab on Facebook and Twitter.