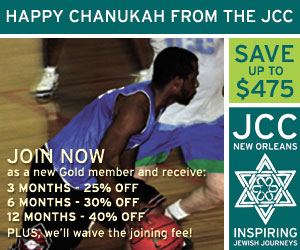 There's never been a better time to join the New Orleans Jewish Community Center, but time is running out. From now until the end of the month, the JCC is waiving the joining fee on ALL new memberships at both the Uptown and Metairie locations, a savings of up to $125! With new facilities in the gym, new classes and camps, and new events and programming for the whole family, the JCC has your new year covered.
Keep reading for the news from the JCC.
With membership levels to suit every kind of family, your membership at the JCC grants you access to top-of-the-line sports and wellness facilities, now featuring brand-new equipment such as stationary bikes, treadmills, and seated elliptical machines complete with iPod hookups for your own personalized workouts. Other facilities include weight rooms, group exercise studios, pilates studios and circuit training, massage rooms, spas, and swimming pool (facilities vary by location).
New programs for the winter include exercise boot camps as well options for sports enthusiasts (basketball and baseball, among others) as well as more creative pursuits, such as salsa, belly dancing, ballet, cooking, and even furniture repair and upholstery. With a range of educational activities on offer, the JCC has a learning experience for every taste and interest.
The New Orleans Jewish Community Center serves two locations in the New Orleans area, at 5342 St Charles Avenue in Uptown, and at 3747 W. Esplanade Avenue in Metairie. For more information, visit the JCC website at http://nojcc.org, the JCC Facebook page, or call 504.897.0143.