What's with this Travel & Leisure readers poll slapping yet another label on the residents of the Crescent City?  Now we're "the strangest."  Really!?  The strangest?  That's just how I want to raise my kids and have them self-identify their home and rearing.  "Don't feel bad about not being like all the other 21st century American children, we're just stranger than everyone else."  Um, no.  I'll accept most distinctive, most resilient, and / or most fun to be around, but I for one veto strange, at least insofar as defined by most.
The author of this poll hails from Denton, TX.  Ever been to Denton?  Wanna talk strange?  I'm a native Texan and don't play that card too often, but when I contextualized the poll's contents and its author, the definition of strange became more apparent to me.  Because as far as I define strange in American cities I would have to argue not a one has anything saleable for a travel magazine and its readers.  I asked her her further thoughts via Facebook but she did not reply.  I thought it might be fun to transpose New Orleans and Denton, sooooo let's do that now, shall we?
My message offered up 5 categories, and here's how I think they might play out:
A Friday night looks like 
NOLA Artery clogging local fare, brew, and oodles of live, local music
Denton Maybe a little Olive Garden followed by Starbucks
Tuesday morning 2AM looks like 
NOLA Rebirth's 3rd set at the Maple Leaf
Denton Flashing red lights at empty intersections
Best Fest
NOLA Gotta be Jazz Fest
Denton This one feels like their state fair.
Most notable local celeb in mainstream media
NOLA Li'l Wayne, maybe Nic Cage or John Goodman
Denton Sylvester Stewart "Sly" Stone of Sly and the Family Stone
Most notable local celeb only locals know
NOLA Mr Okra
Denton Phyllis George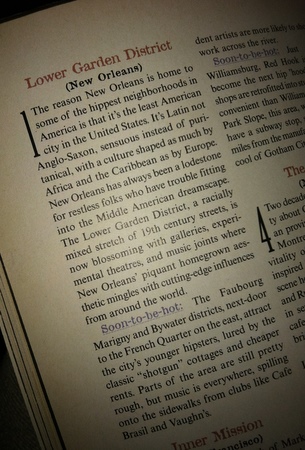 In all honesty when I came across this piece last week, it brought me back to piece I read over 10 years ago in Utne Reader.  Utne published a "Beyond Hip" issue (Nov/Dec '97), and in it a piece entitled "Hip Hot Spots" called out The Lower Garden as the number one hippest place to live then (see pic).  So I wondered "What would the authors of that piece have to say about T + L's recent poll?"  So I shot off some emails and low and behold got a response from co-author of that piece, Jay WallJasper, and he noted:
If New Orleans is strange, it's a strangeness that we need a lot more of in America.  There's a pulse, a sexiness, an affirmation of joy and community that NOLA exudes while the rest of the country dutifully and efficiently goes about its business as if that was the meaning of life.
So there you have it.  I know a lot of people last week posted on their social media accounts a lot funny comments in relation to this poll, but frankly I don't see it as a laughing matter much less something we should align ourselves to or with.  We have a special tribe here, a collective of natives and non-natives alike, and we acknowledge our home as a unique space we all choose as our home.  We know our ways are unlike most, but so it is with almost anywhere willing to forge an identity.  And that simply isn't strange.
Jean-Paul Villere is the owner of Villere Realty and the Du Mois gallery on Freret Street and father of four girls. In addition to his Wednesday column at UptownMessenger.com, he also writes an occasional real-estate blog at villererealty.com and shares his family's adventures via pedicab on Facebook and Twitter.