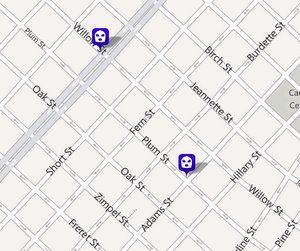 Three young people in a dark-colored pickup truck cruised through the Carrollton neighborhood Sunday morning and committed two armed robberies, police said.
About 10:45 a.m., a man was walking in the 8100 block of Willow when the pickup pulled up next to him and stopped, and two men got out and robbed him at gunpoint, police wrote in an email alert Monday.
About two minutes later, the truck drove past people working on a car in the 1300 block of Adams Street, then stopped and backed up, and two men got out again and robbed the victims at gunpoint, police said.
The gunman in both cases is described as a 5-foot-7, 145-pound black male between 15 and 21 years old, with a short faded haircut and a blue-steel semiautomatic handgun. He was with another young man of about the same age and build, but with a mark under his right eye, and a younger teen between 12 and 16, described as slightly smaller and with dreadlocks.
Anyone with information on these robberies is encouraged to call Detective Jerry Baldwin at 658-6020, or, to leave an anonymous tip that could be eligible for a cash reward, call CrimeStoppers at 822-1111.