A man who led police in a chase across town in a stolen SUV on Thursday afternoon crashed into a tree on Bordeaux Street, ditched a pistol on Laurel Street and was found hiding in the block, police said.
The gold Lexus SUV was spotted shortly after noon by a police officer in New Orleans East at Chef Menteur Highway and Gawain Drive who recognized it as stolen from Jefferson Parish, said Sgt. Chris Billiot of the Second District persons-crimes division. The SUV would not pull over, and the officer pursued him onto the highway until losing him at Claiborne and Martin Luther King Boulevard in the Sixth District, Billiot said.
Shortly afterward, another officer saw the vehicle at Earhart and Broadway, and resumed the pursuit through the university area until the SUV crashed into a tree on Bordeaux Street just off Annunciation, Billiot said. The lone driver jumped out, and a number of neighborhood residents saw him toss a gun under a car parked in the 4700 block of Laurel Street as he ran, Billiot said.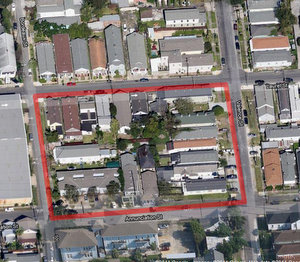 The residents showed police the direction he ran, and officers closed down the streets around the block where he was last seen, Billiot said. When police dogs arrived, he surrendered without incident, Billiot said. Police also found crack cocaine in the vehicle, Billiot said.
The suspect was identified as 19-year-old Darryl Johnson, who has a record of drug possession charges. He is charged with possession of a firearm by a convicted felon, possession of a stolen vehicle, possession of cocaine, and a number of traffic charges that include flight from an officer.
The crash and the gun on the street surprised residents of one of Uptown's quietest neighborhoods, who all said they rarely see trouble on their streets. While the block was shut down for the search, they gathered on the sidewalks to watch. Keimyereia Jones, who lives near the spot where the gun was discarded, said she had left her house for an errand and returned to find the block surrouned by police.
"I went out for a second and when I came back, I couldn't even get back in," Jones said. "They said I might be held hostage. … I'm just glad they got him."