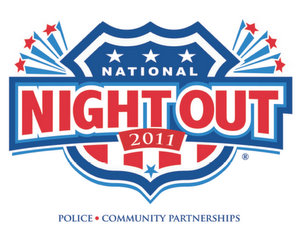 Neighborhoods around the city are preparing to celebrate the "National Night Out Against Crime" tonight (Tuesday, Oct. 11), and Uptown groups are all doing it their own way, with a movie night, a charity flea market, a health fair, multiple cookouts and live music.
Here's a list of events around Uptown:
Palmer Park (corner of South Carrollton and South Claiborne): Likely one of the largest events of the evening, from 5:30 p.m. to 7:30 p.m. Music by Shocking Blond, food by Plum Street Snoballs, Crepes a la Cart and Fruit Sensations, prize wheel and fire engine exhibit. Hot dogs for $1 donation, and fundraising drive in support of NOPD and the fire department.
Organized by the Carrollton Area Network (Carrollton-Riverbend Neighborhood Association, Carrollton United, Central Carrollton Association, Fontainebleau Improvement Association, Maple Area Residents Inc., StateStreetDrive.com, Northwest Carrollton Civic Association, Palmer Park Neighborhood Association). Sponsored by Robért Fresh Market, 5 Minute Oil Change and Walgreens, with participation from Daughters of Charity, AARP and Entergy.
George Washington Carver Playground and Boosters (7500 Prytania): Free food, drink and entertainment from 4 to 9 p.m.
Alma Peters Park (at Eleonore and Annunciation): From 6 to 8 p.m., music by Buddy Francioni and Johnny Price of The Mo Jelly Band, food and desserts by Whole Foods, Blue Frog Chocolates, Laurel Street Bakery and Chez Nous, and beverages by Crescent Crown. Bring your own folding chairs or blankets. Organized by Audubon-Riverside Neighborhood Association.
The 2700 block of Octavia will have an event organized by the Upper Rickerville Neighborhood Association.
Broadmoor will hold three events: food and a spacewalk in the 4200 block of Walmsley Avenue, an open house with red beans and fried chicken at 3536 Louisiana Avenue Parkway, and a barbecue in the 3300 block of Upperline Street.
Samuel J. Green Charter school: Pizza donated by Dominos and gift certificates from Kehoe Automotive and Freret Hardware. Organized by Freret Neighbors United.
Latter library lawn: Movie night featuring "Secretariat." Neighbors begin gathering at 6 p.m. and the movie starts at 6:30 p.m. Bring picnic blanket or chairs. Free popcorn and snowballs. Organized by Twinbrook Security District.
Laurence Square (4400 Magazine Street): From 5:30 p.m. to 7:30 p.m., sponsored by Bouligny Improvement Association and Faubourg Marengo Neighborhood Association. A raffle will be held with donations from local businesses, and the neighborhood will also have a flea market, both of which will raise money to support the NOPD Second District. Buddha Belly will be grilling food.
3900 block of Camp Street: Touro Bouligny's celebration with food, music and a silent auction from 5:30 p.m. to 8:30 p.m.. $5 to enter.
Burke Park (Annuniciation and Second): A cookout sponsored by the Irish Channel Neighborhood Association.
Sophie Wright Park (Magazine and Sophie Wright Place): At 6 p.m., a cookout with hamburgers, hot dogs and soft drinks. Organized by Coliseum Square Association.
Central City's Faubourg Delassize Neighborhood Association (at the community garden, Sixth and Dryades): Meet and greet your local police officers, pick up a child ID kit, learn about community resources and get to know your neighbors!
Taylor Park (Third Street and South Derbigny): Community health fair from 5:30 p.m. to 8:30 p.m. Sponsored by Hoffman Triangle Neighborhood Association, Aerens Supermarket, Associated Neighborhood Development, Urban Impact Ministries and Neighborhood Development Foundation.
Don't see your event listed, or have more details to add? Let us know in the comments and we'll update the list.