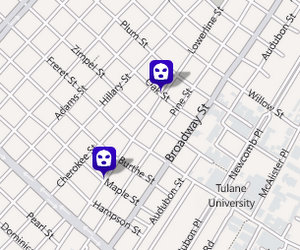 Two groups of young men were robbed at gunpoint within minutes of each other early Saturday morning on Lowerline Street, authorities said.
The first robbery took place about 1:49 a.m. at Maple and Lowerline, and the victims were a group of four men aged 18 to 20. About 10 minutes later, three men in their early 20s were robbed about four blocks away, in the 1200 block of Lowerline. In each case, the victims were approached by a pair of men, one with a gun, who took their belongings and left on foot, police said.
The gunman is described as a 5-foot-9, 145-pound black man with a beige hat, dark shirt and blue jeans, police said. His accomplice is described as a 5-foot-8, 155-pound black man with a black T-shirt, blue jeans and a black bandana.
Anyone with information should call NOPD Second District detectives at 658-6020 or, to leave an anonymous tip that could be eligible for a cash reward, call Crimestoppers at 822-1111.