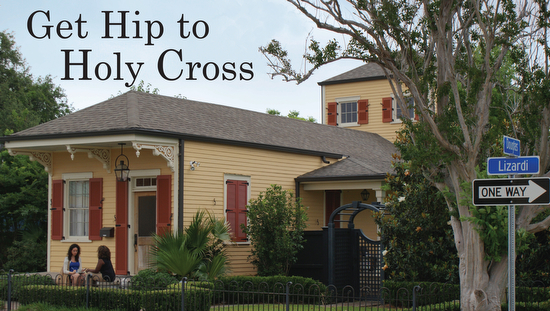 "We were standing in his spacious front yard on Dauphine Street," writes Danielle del Sol in the latest issue of Preservation in Print, "chatting about what it is that makes his neighborhood such a special place when Holy Cross Neighborhood Association President Bill Waiters put his finger to his lips. 'Shhhh,' he said. 'Listen.'
I closed my eyes and heard nothing but birds singing. The breeze began to blow the branches of the tall oaks overhead. "It's peaceful here," he said. "We're only right across the bridge, but you can't hear the hustle and bustle of the city. There's nowhere else in New Orleans where you can sit on your porch and feel the breeze blow like this."

"Once you live out here," Waiters said, "it's hard to leave."

Sitting on the banks of the Mississippi River, just across the Industrial Canal from the Bywater neighborhood, historic Holy Cross is a mere two and a half miles from the French Quarter — but it feels like another world.  It's pastoral but urban, peaceful but proximate to the hip amenities of downtown. Historically developed as farmland, Holy Cross grew into an urban neighborhood as New Orleans itself grew. But its fertile roots have translated today into an area that feels more relaxed, with large green lots, a long, grassy levee and chickens occasionally wandering across streets.

This Old House magazine recently named Holy Cross as one the best historic neighborhoods to live in America — the only one chosen from Louisiana — and after speaking to residents, it's clear why. There's little crime, neighbors told me, and easy access to the river; charming, historic real estate with land that brings nature to your porch is available for affordable prices. Where else in New Orleans, they asked me, can you enjoy such small-town camaraderie amongst neighbors? Where else is it so peaceful?
To continue reading this article and learn more about the Preservation Resource Center's efforts in the Holy Cross neighborhood, click here. And, for a current list of PRC-renovated properties for sale, see below: