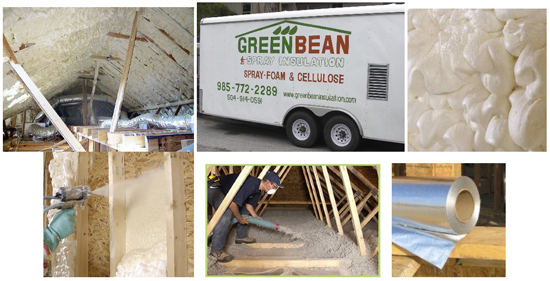 With record breaking high temperatures this summer air conditioning energy bills can also be reaching new record highs.  Contrary to popular belief, cooling issues in a home are rarely caused by lack of A/C output — instead, they're usually due to insufficient insulation in the attic. To help you control your energy bills and stay cool this summer, GreenBean Insulation is offering a $150 coupon to readers of the Uptown Messenger off the cost of any insulation work this summer.
Continue reading to find out more about the history and benefits of spray foam insulation used by GreenBean Insulation from the History Channel's Modern Marvels.
Each year in the United States nearly $13 billion worth of  energy in the form of heated or cooled air escapes through holes and cracks in residential buildings according to, History Channel's Modern Marvels. The documentary calls spray foam insulation the secret weapon on the war against energy consumption.
Attics are one of the worst culprits for energy wastage in a house. With proper insulation, you can lower the temperature in your attic from 140°F to a more efficient, and less expensive, 85-95°F. GreenBean Insulation uses state of the art foam insulation materials to help you reach this target temperature, reducing the load on your air conditioning unit and immediately saving you money on your electricity bill. Combined with state tax incentives under the Louisiana Hero Program, which can result in tax credits of up to $4000, the savings are real, immediate, and long-term.
To redeem your $150 coupon on installation, contact GreenBean Insulation and mention the Uptown Messenger. GreenBean Insulation serves every neighborhood in New Orleans as well as the greater New Orleans region, including Baton Rouge and the North Shore. GreenBean Insulation provides free consultations and free estimates; interested homeowners should contact owner Kurt Buchert on the web, GreenBeanInsulation.com, on Facebook, by email at kurt@greenbeaninsulation.com, or by phone at 504-914-0591.