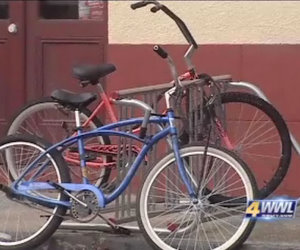 An ongoing sting operation designed to take thieves off the streets of Uptown New Orleans has resulted in five arrests in less than an hour's work over the last week, and may be helping reduce break-ins, police said Thursday.
"It's like a trawl net," said Sixth District Commander Bob Bardy. "We catch a lot of thieves."
Last week, Bardy assigned a team of officers led by Sgt. David Liang to a simple task: leave a bicycle unlocked and unattended on St. Charles Avenue, and arrest anyone who tries to steal it. That Wednesday evening, it took only seven minutes for the "bait bike" to be stolen by Randy Gould, Liang reported back the next day.
Over the week since, Liang's task force has tried again four more times, each time with similar results, Liang reported back to Bardy this week:
On Thursday, it was 54-year-old Kenneth R. Frank, who stole the bike within five minutes.
Friday, a 14-year-old riding on the handlebars of another boy's bicycle hopped off, jumped on the bait bike, and began peddling away before he was arrested.
Saturday on O.C. Haley Boulevard, 45-year-old Herbert Beraud stole the bike in just under 10 minutes.
Tuesday morning, the bicycle was taken by 46-year-old Ernest Gaskin, who pleaded guilty to residential burglary in 1989 and was wanted on a warrant by Jefferson Parish.
"There's no hestitation," Liang said of how quickly the bicycles are stolen. "If you leave your property unattended and it's not taken, you were just lucky that day."
Liang's task force had previously been assigned to heavy patrols of the lower St. Charles Avenue area to quell a rash of auto break-ins last month. One night, Bardy said, the patrols caught a man with a red bicycle breaking into a car. After his arrest, officers realized they had seen him riding around the night before, but on a white bicycle.
Both bikes were likely stolen, Bardy said, and used while the thieves looked for more lucrative targets. Several of the suspects nabbed in the "bait bike" sting also have had lengthy records of thefts of and other crimes, he said.
"They're opportunists. If a bike is available, they're going to take a bike rather than walk," Bardy said. "But you're getting a thief, and in some cases, with a very significant record."
The stings netted yet another bicycle thief on Thursday afternoon, with our reporting partners at WWL along for the ride:
Contact Robert Morris at rmorris@NolaMessenger.com, or post your comment below.