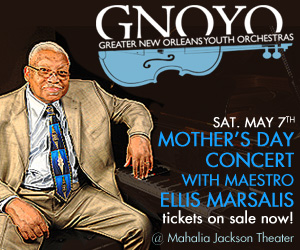 The Greater New Orleans Youth Orchestras is pleased to announce a very special Mother's Day concert on May 7, featuring special guest Ellis Marsalis and a rare performance of a unique orchestral work. See below for more details about a night you won't want to miss.
The Greater New Orleans Youth Orchestras, now in its 16th season, is the city's premier avenue for aspiring classical musicians of all ages. Its mission, to inspire young musicians through providing them the opportunity to study and perform orchestral works, is undertaken through its five ensemble orchestras, two on the North Shore and three on the South Shore.
The Mother's Day concert, the final concert of the season, will feature performances by each of the three South Shore ensembles — the Sinfonia, the Philharmonic, and the Symphony — as well as a solo performance by the award-winning young cellist Georgia Bourderionnet, a freshman at Ben Franklin and the winner of the 14th GNOYO Concerto Competition.
Rounding off the evening will be a performance by legendary pianist Ellis Marsalis, who will offer a rare performance of his "Ballad for Orchestra and Jazz Combo." GNOYO Music Director Jean Montes notes that this is a once-in-a-lifetime opportunity not just to hear this piece, but "for the young musicians to perform with such an inspiration to the entire musical community in New Orleans."
The concert will start at 7pm at the Mahalia Jackson Theatre in Armstrong Park. Tickets are $20 for adults and $10 for students, and are available via Ticketmaster online, at the Mahalia Jackson Box Office, or at the door. More information is available at the GNOYO website. This concert is not just a perfect Mother's Day gift: it's an unforgettable night for the whole family.