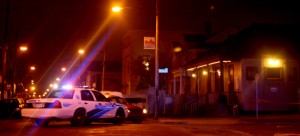 Investigators have secured video images of a suspect in Monday night's fatal shooting on Freret Street, and should have the suspect identified soon, the commander of the NOPD's Uptown-based Second District told community members Tuesday evening.
The victim, 19-year-old Errol Meeks, apparently knew the person who gunned him down outside Friar Tuck's bar shortly after 11 p.m. Monday, said Capt. Darryl Albert at the district's monthly NONPACC meeting with community members.
"This case, I feel, will be solved with a name to go along with the face that we have very shortly," Albert said.
Despite his possible acquaintance with the shooter, police echoed neighbors' and family members' comments that Meeks was a "good kid." He lived in the neighborhood, enjoyed playing pool at the bar, and had no real run-ins with police, said Second District Lt. Mike Montalbano.
Montalbano, who leads the district's investigative unit, said after the meeting that Friar Tuck's probably deserves more credit for working with police and less blame for the shooting than it has received. Earlier this month, shortly after police had visited the bar to check on its status following a sanction from the city alcohol board closing it for a month, staff at the bar discovered a patron with a gun, called the police back and detained the man until police arrived. Further, bar owner Jason Blitch has cooperated with police ever since last summer's raid, and complaints about the bar had largely subsided, he said.
The wide-ranging meeting also touched on Tuesday's unrelated robbery that led to an arrest on Freret Street, 2010 crime statistics, next week's upcoming anti-crime march and other issues. Click in the box below for a recap of live coverage from the meeting.