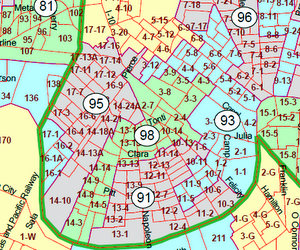 Uptown New Orleans could be represented by as few as three seats when the state House of Representatives is redistricted using the new Census numbers this year, according to an analysis by Bill Barrow and Ed Anderson of the Times-Picayune.
New Orleans will likely lose three seats in the House because of its shrunken population, and state Rep. Walker Hines' decision not to seek re-election means his district will likely be among those carved up in the redistricting process, the newspaper reports. State Rep. Cameron Henry of Jefferson told the reporters he was open to giving up the Black Pearl area he also represents.
Some of that area would then presumably be absorbed by Reps. Neil Abramson, Walt Leger and Helena Moreno, the three remaining Uptown incumbents. The Lakeview-based District 94 held by Rep. Nick Lorusso may also extend into the area Hines served.